For Immediate Release:  
THE SWEETEST LAND is pleased to announce an innovative collaboration with the Hartford Courant.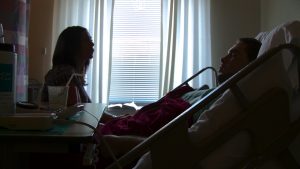 Prior to THE SWEETEST LAND's completion and release, the Hartford Courant will present exclusive cutting room footage (stories not used in the film), imagery and opinion pieces from film participants.    National prevention experts along side of Hartford's victims of violence, emergency room physicians/practitioners, trauma surgeons, law enforcement professionals and policymakers can present their evidence with one objective – improving the safety-net's value, outcome and standards so urban youth, families and communities better succeed.
THE SWEETEST LAND's final cut will be submitted to a wide array of film festivals within 4-6 months.  The opinions expressed in the Courant represent the views of independent researchers and SWEETEST LAND participants, not the Courant.  The Courant hopes this content will provoke an open and honest exchange of ideas and perhaps a broader conversation about urban violence prevention.
In Connecticut, few would deny the devastating toll that violence leaves.   In Urban America, that indescribable pain occurs every night of the year.   Connecticut can begin a new process of vastly improved outcomes, accountability and connection to research in prevention and victims care.   The question is, will we?
Posted by Jeffrey Teitler