CONNECTICUT  (December 21, 2022)
GSW WOMEN:
  Within an ongoing epidemic of violence, filmmaker, Jeffrey Teitler, tracks the life-saving efforts, courage, and resilience of three female practitioners and an entire medical team at Hartford Hospital's Level 1 Trauma Center.  
VIEW ON MEDSCAPE HERE
GSW WOMEN was released on Medscape on December 19th.  The Documentary Short Film was produced in collaboration with Hartford HealthCare, Jeffrey Teitler, Anya Romanowski, Rebecca Stewart, Nick Dethlefsen, Audrey Silver and Maria Del Sol and Medscape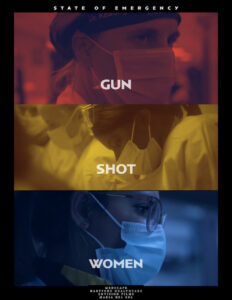 Filmed as events unfold, trauma surgeon Dr Jane J. Keating, physician assistant Ashley Weisse, and emergency nurse Amber Langlois reveal an intimate glimpse within a preventable cycle of America's violence epidemic — and the scars it leaves behind.
It remains an incredible honor to preserve these times and issues, while documenting the meaningful work and moments on Connecticut's front lines.  VIEW ON MEDSCAPE HERE
FULL CAST LIST –  HARTFORD HOSPITAL – TRAUMA / EMERGENCY
JANE J. KEATING – ASHLEY WEISSE – AMBER LANGLOIS – AMBIKA ANAND – ISAAC ADELBURG – MARY
 

ALICONA – HYSEN ALLA – VALERIE ANDERSON – ALEXANDRA ARCARIA – SARAH BIALKOWSKI – RIGERS BICAKU – ALEXANDRA BRADLEY – JOKSHAN BRYANT – DEREK BRIGGS – TANISHA BUTLER – ROSSMARY CARTIER – SAMUEL COLO – KATHARINE DEVIN-HOLCOMBE – JACINTHA DEVILLIER – EMILY FIRENZE – DAN FREESS – BEN GARBUS – ALLISON GETZINGER – BRENDAN GONTARZ – NICHOLAS HASKELL – PAIGE HINE – COLIN HUGUENEL – SHANNA-KAY LEVY – NISHANT MERCHANT – CAITLYN NAPIERKOWSKI – SARAH OCAMPO – CHELSEA MCNALLY – ELIZABETH MERRITT – SAMANTHA MOHAMMED – MATTHEW MORRISON – AMBER MULLEN – MARISSA NGUYEN – KELLY OLESEN – CYNTHIA PRICE – ELIZABETH ROBINSON – GABRIELLE RUSCZYK – MELISSA SMITH – INAM SHAIKH – TRENT SHE

 

– KELSEY SULLIVAN – ERIN STANKIEWICZ – EMILY TIEDEMANN – JAVIER VASQUEZ – MEGAN WARD
SPECIAL THANKS
HARTFORD HEALTHCARE,  JEFFREY FLAKS,  JEFFREY COHEN, MD FACS, AJAY KUMAR, MD,  ADAM STEINBERG, DO, FACS, FACOG, FFPMRS,  REBECCA STEWART,  NICK DETHLEFSEN, JONATHAN GATES, MD, MBA, FACS KENNETH ROBINSON, MD, AUDREY SILVER, RN PATRICIA VERONNEAU, RN GREG FRANI, RRT, EMT-P. PETER KNOX, RON KOWALCZYK,  TINA VARONA,  EUGENIA YUN,  NIAMEY WILSON, MD, FACS,  MD, MSCE,  F. PERRY WILSON , BRET SCHIPPER, MD, FACS, CPE,  MELISSA TEITLER
 Much more to come in 22/23
Posted by Jeff Teitler – Director – Envision Films