Click images to view the stories on Medscape.
In the midst of the Coronavirus, Envision Films / JeIf Teitler set up several photo sessions to honor the stories of health providers during the 2020 pandemic. Immediately, profound moments of concern, poignancy and beauty emerged.
After introducing the project to Medscape, a leading online destination for healthcare professionals, it quickly evolved into a moving, personal and vulnerable media series from health providers on the front lines.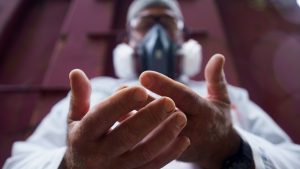 THROWN OUT – A TRAUMA SURGEON SPEAKS OUT AMIDST NATION WIDE LAYOFFS
I'LL BE YOUR HEART – TO SAY I AM NOT HAUNTED WOULD BE UNTRUE…
Special thanks to Eugenia Yun and Medscape.  Produced by Jeffrey Teitler – Director, Envision Films