Connecticut, June 10, 2020
After producing a short film on Jay Bailkowski, a security supervisor at Hartford Hospital, who just spent 17 days clinging to life on a ventilator with COVID-19,  his ICU physician, Dr. Megan Panico never gave up.
Their hopeful story of recovery, (seen above) was broadcast on NBC CT as it rapidly received over 31,000 views on Facebook.  That's when it was noticed by National Geographic's science editor, Nsikan Aspen, who invited the story on their national podcast.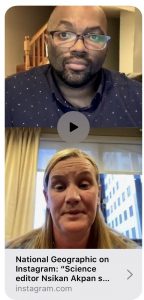 We are pleased to have collaborated with Hartford HealthCare to eIectively tell this story. We're also thrilled it inspired National Geographic's engagement, which told their story to nearly 200,000 individuals across the nation. That is the power of a story!
Posted by Jeffrey Teitler