Shae Sau arrived at CCSU as a transfer student from Manchester Community College.
"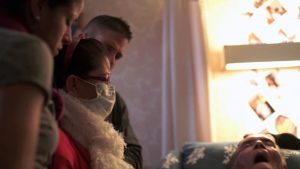 Film for me at CCSU has changed my thoughts and perception of production. I have gone beyond the fear of handling the camera and approaching subjects.   Most recently, through film, I explored issues of gender and identity in an extremely personal way.  This resulted in over 6000 views within week of posting and a mass of positive feedback on issues of gender.  
Currently, I am documenting my dying grandfather who suffers from Parkinson's disease, Alzheimer's and Pneumonia. To be able to document his decline in-progress, and see my whole family come together, has preserved great moments of beauty and heartache. At times it was difficult filming such a personal experience, but looking back, I realize what I had done.  Every moment of filming was very intimate.  I am proud of the work and time put into filming this.
Shae's grandfather passed away on March 5th 2014.   Because of Shae's intensive production work on this issue, her grandfather's voice and moments, will soon tell a meaningful story.
Posted by: Jeffrey Teitler – Associate Professor, Central Connecticut State University