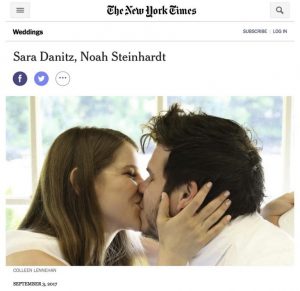 While the majority of Film students at Central Connecticut State University focus on narrative and documentary filmmaking, there are other areas of production, which also lead to impressive outcomes.   In Colleen Lennehan's case, it was a New York Times publication – an honor given to selected photographers, who are screened by the paper's Wedding Section. 
A recent graduate of CCSU, Colleen struggled with just about every aspect of the production process.  Though multiple films were conceived with zeal, she never allowed herself to perfect a single one.  Needless to say, it was an odd choice when she enrolled in an Independent Film class during her final semester….and that's when things changed.
COLLEEN:
For the majority of my time at CCSU, I was a Journalism major. I spent hours writing and editing articles about current events and ethics within journalism… but photography was my passion. Naturally, I also took Filmmaking courses in the Communication Department.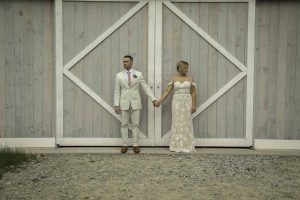 While Filmmaking widened my ability to capture beauty, the exercises were not easy. Initially, we were assigned to explore themes of our interest through photography.  Since the exercise was content-based, there were no aesthetic or technical requirements.  I struggled with that.  A lot!
As Teitler's course progressed, I spent hours working with light.  I used my family as models and felt like a complete fool.   With increasing complications, the combination of exploring ideas, characters and behaviors with cinematic technique, light and critical thought was frustrating.  But, I continued.  I shot sporadically, brought in a bad mood consistently and never gave up….neither did the class.
Eventually, I became interested in filming on the theme of, " bliss."   I began to apply cinematic technique, practiced and slowly, my ability to capture more meaningful and candid moments improved.  These courses opened my creative side, by challenging my critical, aesthetic and technical sides…but it's a process…and that process ultimately lead to my photography business today.  As for my advice: Don't let the aggravation of failure stop you from pursuing what you love.  In every defeat, if you continue, you will find progress.
Since graduating only 2 years ago, Colleen has built her own wedding and photography business. Recently, her work was published in the New York Times.   Colleen's business has been steadily growing and the idea of "Bliss" remains her area of interest.
For additional information on Colleen's work:
www.colleenannelennehan.com,  Facebook Colleen Anne Lennehan,
@colleenlennehan.
Posted by, Professor, Jeff Teitler – CCSU Film Program – Department of Communication